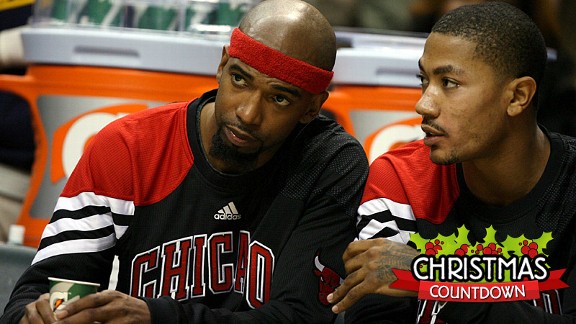 The Bears season is essentially done, and I couldn't be more excited about the return of hoops. Not college hoops you purists! THE NBA! Yes, I know a vast majority of you can't stand the league, and while I understand why, I don't share the same feelings. With Derrick Rose inked to a max extension, I cannot wait to see this Bulls team eclipse 60 wins again this year (45 since its a shortened season...that would be the same win percentage) I still think Dwight Howard would be a great addition (and I'm willing to deal Deng, Noah and Gibson to get him), but even without superman, this team will contend again for the East.
I was very critical of the Rip Hamilton signing, but I was wrong. Even though it was a preseason game, I loved what I saw on Tuesday night. Hamilton is a guy who can hit the outside shot, can run the floor with Derrick Rose, and can create his own shot when needed. The Bulls didn't have that last year. He is not a defensive stopper, but you have other guys to play that role. One other big thing Rip does for Chicago is move! The Bulls did a lot of standing and watching Rose last season...Hamilton is a guy he is active on the offensive end. I like the signing, even if it means admitting I was wrong.
I'll have some more detailed predictions for the season before the calendar turns to 2012, but I'll tell you right now, I like the Bulls to make the conference finals!