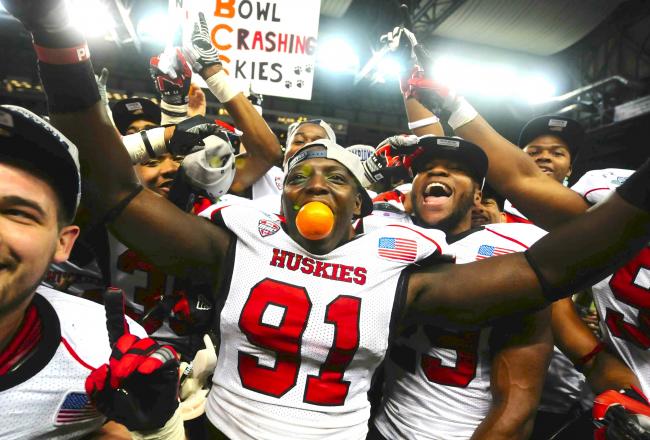 Date: December 2
Location: DeKalb, Illinois
A lot of dominoes had to fall. They all did. And boy did it anger a lot of people.
As the NIU Huskies rolled toward the end of their 2012 season, a door began to quietly open. If the Huskies finished the final BCS rankings in the top 16 AND ahead of a BCS conference champion, they'd receive an unlikely berth in the Orange Bowl. First, NIU needed two overtimes to knock off Kent State, a team ranked ahead of them, to win their second straight MAC title. Then they waited. The Big East champion Louisville would almost certainly finish behind NIU in the standings, and unranked Wisconsin grabbed the Big Ten title for good measure. It was up to the computers, and the computers locked them in at 15. The Huskies officially crashed the BCS. All of this one day after Dave Doeren left for NC State.
The uproar was astounding. Jesse Palmer, David Pollack, Pat Forde, Colin Cowherd, and most notably, Kirk Herbstreit, went off. Herbstreit went as far to call NIU's Orange Bowl berth a disgrace to college football. Meanwhile, the cheers exploded out of DeKalb, celebrating the biggest moment in program history. The cheers grew louder with every critic shouting their direction.
NIU sneaking into the big boy's treehouse would have made this list, but the fallout puts it into the top four. For a full 24-hour news cycle, NIU was the story. No Notre Dame and Alabama. Not Wisconsin somehow going to another Rose Bowl. The NIU Huskies found their way into the college football money pile, and the talking heads were pissed. Underdogs are loved in college basketball, but how dare one emerge in college football.
We're now four days away from NIU taking their national stage, and very likely suffering a defeat. But the game really isn't the point. College football is the biggest political battleground in the nation, and the little guy was able to break in. All they did was follow the rules.
10. Montee Ball Breaks NCAA Touchdown Record
9. Raffi Torres Hits Marian Hossa
8. Dan Appino Goes To Auburn
7. Aaron Rodgers Named NFL MVP
6. The Fail Mary
5. Ryan Braun Wins Appeal Of Drug Suspension
4. NIU Crashes Into BCS
3. ???